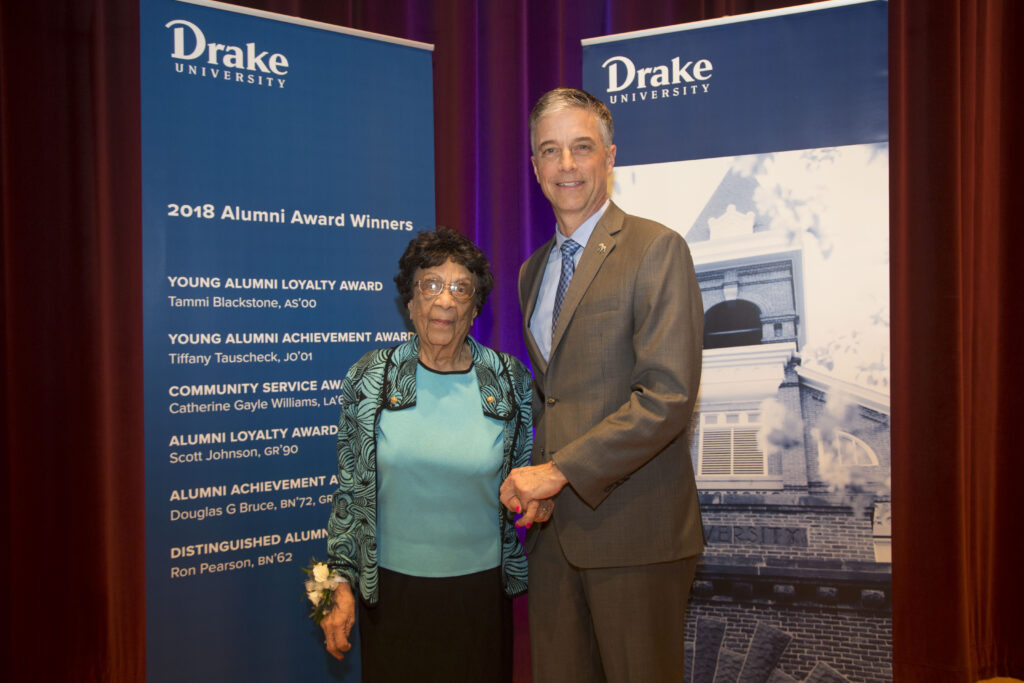 As our inspiration statement declares, our University strives to transform lives and strengthen communities. This inspiration is often embodied in the work and accomplishments of our graduates. One such graduate, was Ms. Catherine Gayle Williams who passed away last spring at the age of 105.
While working as an assistant stenographer for Polk County, Ms. Williams decided to pursue a Drake degree in sociology part-time. Following her graduation in 1961, she joined the Iowa Department of Human Services where she embarked on a 30-year career of firsts. Ms. Williams established the first foster parent group for children with developmental disabilities, provided the first statewide training program for foster parents, developed the first subsidized adoption program, and implemented Iowa's first child abuse registry. Her efforts resonated on a national level with the creation of uniform standards for the delivery of foster care services.
When she retired in 1981 as deputy commissioner of the Iowa Department of Human Services, she was the highest ranking African American in the Iowa State government. Ms. Williams received many accolades for her incredible service including membership in the Iowa Women's Hall of Fame and the Iowa African Americans Hall of Fame. In 2019, she was inducted into the National Association of Social Workers Foundation Pioneers Program.
I met Ms. Williams in 2018 when she received Drake's Alumni Community Service Award, having previously received Drake's Distinguished Alumni Award.
When it was Ms. Williams turn to accept her award and address the crowd, she rose from her seat in Sheslow Auditorium. Instead of taking the stage, she spoke from the auditorium floor. Despite not taking center-stage, the audience listened with rapt attention. With few notes, Ms. Williams passionately advocated for the value of community service and the impact we can each have on one another. The insight in her words and spirt of her delivery were electric. In these polarizing times, Ms. Williams' message of shared humanity coupled with her exemplary life lived in service to others continues to resonate with me and all who shared in that special moment.
Following Ms. Williams' passing, Drake learned of her continuing commitment to others and her alma mater. Ms. Williams made an estate gift to Drake of nearly $600,000. This gift will further advance her legacy while providing countless opportunities for generations of students to attend Drake. While the scale of Ms. William's gift is significant, her legacy looms even larger, inspiring each of us to live a life of purpose and in support of our communities.
— Marty Martin, President