This Q&A is part of the story series Voices of Drake that highlights the diversity, ambition, and passion of the incredible people who make up our campus community. In honor of Black History Month, we will be sharing a collection of interviews to spotlight Black voices in our community. This week's story introduces Layana Sariah, junior at Drake and president of the Coalition of Black Students.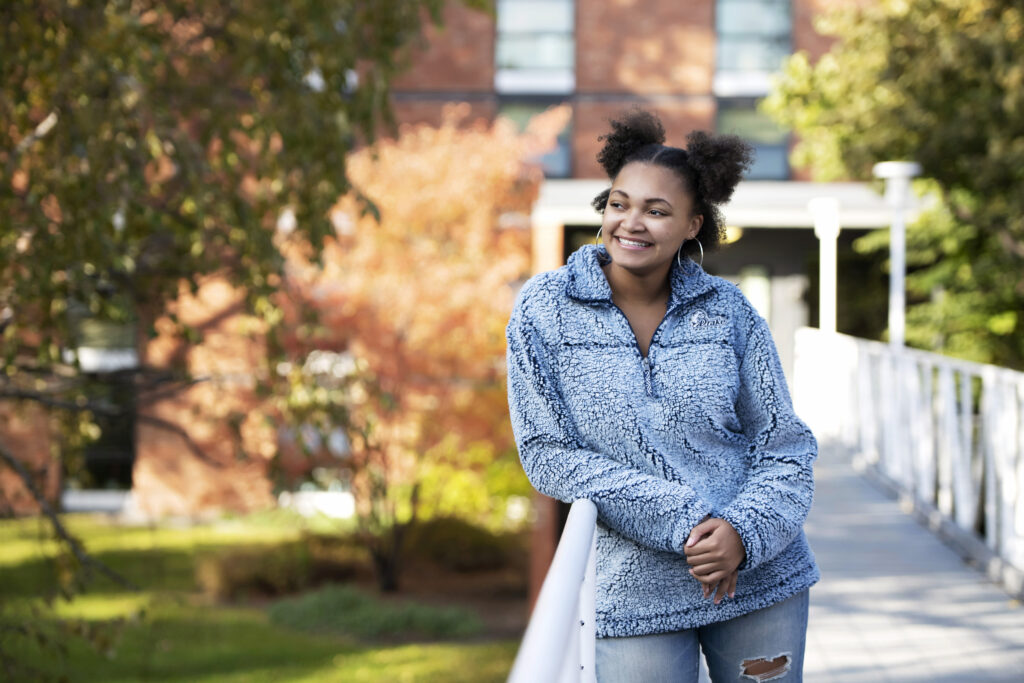 What is the Coalition of Black Students (CBS)?
The Coalition of Black Students is an inclusive multicultural organization that seeks to unite, empower, and educate the Black/African American Student Community through top quality social, cultural, and academic programming initiatives.
How did you get involved with CBS?
I got involved with CBS my first year at Drake within the first few weeks of school. I began attending events and most if not all of their events were something, I enjoyed so I just continued to attend events. With this most of my friends were apart of CBS as well.
What has it meant to you during your time at Drake?
CBS has been very influential in my Drake experience. Majority of my favorite memories are from CBS events or with CBS members. This organization has always made me feel comfortable with being myself and has provided the familiarity and home aspect that I was looking for on campus. This organization was essential in my adjustment to the Drake community and assisting with my comfortability on campus.
What does a robust and active CBS mean to the Drake community?
A robust and active CBS means that all of Drake's Black students are being taken care of. They have a regular space that they can be themselves and feel like they are getting support. Having an active CBS ensures that Black students on campus feel more comfortable in the Drake Community. Being Black in the world today especially at a predominately white institution it is vital that these students feel supported but also a place where they can get away from the stressors the world or campus can provide.
How, if at all, does your role as President of CBS connect with your studies at Drake or your future career plans?
I am studying psychology in hopes that I can have a private practice as a psychologist. Along with that I want to start a nonprofit that offers patient catered therapy. I especially would like to focus on improving and changing the stigma surrounding mental health in the Black community. Mental health issues are ignored in our community, and in my career, I would like to bring more awareness to it and normalize it. I will do that by becoming a mental health professional which add to the amount of people that look like us in the mental health field. As the CBS president, I am able to host events that can contribute to improving the mental health of Black students on campus. I do this through my role as president by checking in and connecting with my members but also through our events. We host events where our members can have the space to participate in various forms of self-care. We also have events that bring attention to mental health problems specifically in our community. One way we have done this is through a mental health panel. At this panel, we had all Black individuals with various backgrounds in mental health come together and talk about mental health and self-care in our community and this aided in bringing awareness to it but also normalizing it.
What are you excited about for the future of CBS or the Drake community more broadly?
I am very excited for CBS to grow. With how vital CBS is on Drake's campus I am excited to hopefully spread the same influential experience that CBS has had on me to other students. Since my first year, I noticed a small increase to the number of Black students on Drake's campus and so with that growing I am really excited to how that can impact CBS.
Who have been some of your important mentors during your time at Drake?
One of my mentors on campus is Debra DeLaet. She has been my mentor since my first year and it was through the Crew Scholars program that we got connected. She has been very supportive of me and my Drake experience.
What would you like the broader Drake community to know about CBS?
I would like the broader Drake community to know that CBS is very important to Drake's campus. We may not be big in numbers like other organizations but that does not make us any less important. We are vital to the Drake community and we should not go overlooked or unnoticed. Along with that I would like people to know that although we contribute to helping our members feel supported and welcomed on Drake's campus, we are not the only ones who should be doing the work. Our goal is to unite, empower, and educate Black and African American students on this campus, but membership in our organization is open to anyone. Anyone is able to come to our events and learn how to be an advocate for the Black community.