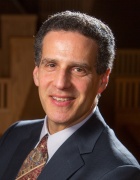 The Drake University Constitutional Law Center is pleased to announce James A. Gardner as presenter of the 2020 Judge James Grant Iowa Constitution Lecture. His lecture titled "Is Iowa a Liberal Democracy?" will be delivered virtually on Thursday, Oct. 29, at 3 p.m.
Gardner is the Bridget and Thomas Black SUNY Distinguished Professor at SUNY Buffalo Law School. He is a highly regarded specialist in constitutional and election law. He is a top national authority on American state constitutional law, as well as the principles of federalism upon which it is built. He is a prolific scholar who has published six books, as well as numerous book chapters, articles and review essays. Gardner recently was recognized as one of the 10 most frequently cited scholars in the field of election law by the influential Election Law blog.
The Drake Constitutional Law Center initiated the Judge James Grant Iowa Constitution Lecture Series in 2012 to feature prominent experts on the topic of the Iowa Constitution. Judge James Grant participated in drafting the Iowa Constitution and was known for his public service, integrity, and dedication to the law. The lecture series is made possible by the generous gifts of Patrick Grant, LW'76, and the Grant family.
— Theresa Howard, Law School