This Q&A is part of the story series Voices of Drake that highlights the diversity, ambition, and passion of the incredible people who make up our campus community. In honor of Black History Month, we will be sharing a collection of interviews to spotlight Black voices in our community. This week's story introduces Brandi Miller, assistant director of new student programs.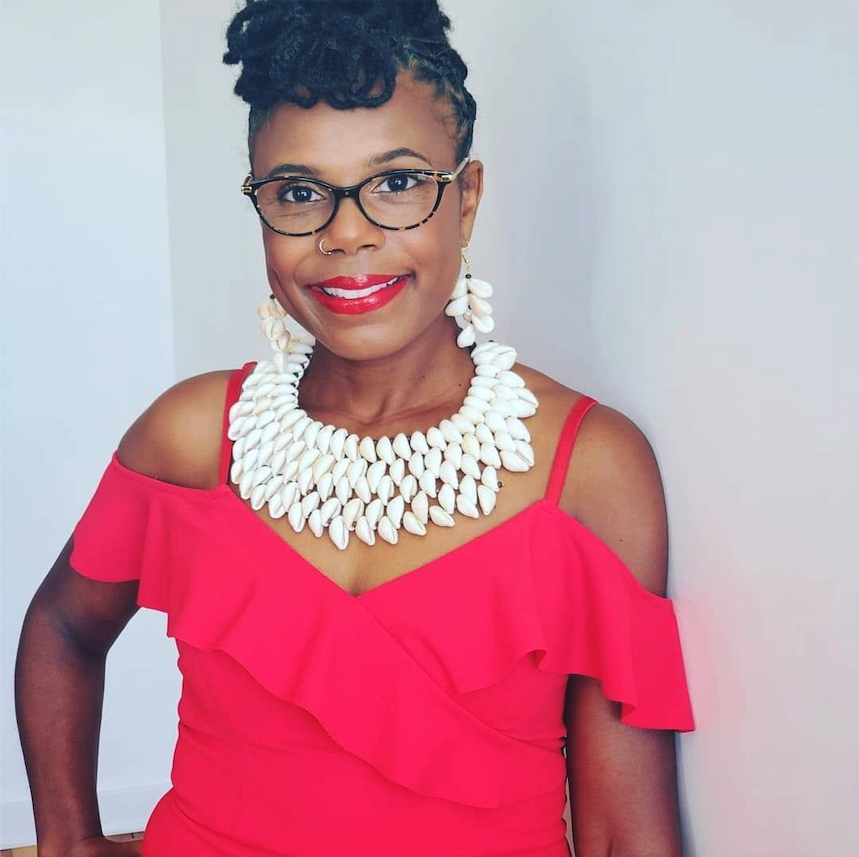 Tell us about yourself.
I am a native of Des Moines and a proud east-sider. I graduated from North High School. I am married to Kenan Miller. Together we have five adult children and eight grandchildren.
Tell us about your education. Where did you go to school and what did you study?
I attended Grand View College (now University) on the east side of Des Moines. My undergraduate degree is in human services. I have a minor in psychology. I also earned my MPA with an emphasis in executive development from Drake.
How long have you been in the Drake campus community?
I am assistant director of new student programs in the Office of Student Financial Planning. I work with new and prospective students. I have been at Drake for 19 years and Student Financial Planning for all of those years. Before hired full-time at Drake, I completed an internship with the director of student activities during my senior year at Grand View.
You are the organizer for Drake's African American Faculty/Staff Affinity Group. How has the organization been important to you during your time at Drake?
Being the Black Faculty and Staff Affinity Group Champion is one of my favorite things about working at Drake. I love meeting and connecting with new faculty and staff of color and learning about them and where they come from.
These aren't normal times, but in normal times, what kinds of things does the African American Affinity Group do?
We had one normal semester that included two small gatherings and a few regular meetings at the Black Cultural Center/House. We kicked off the fall semester with an ice cream social and ended with a holiday party. Then COVID-19 hit. We took Spring 2020 off. We resumed meeting in Fall 2020. We began having monthly virtual brown bag meetings, which allow us to check in with one another. This is a time of self-care for many of us. I leave energized.
How long have you been at Drake? What is your favorite thing about working at Drake?
I have worked at Drake for 19 years. Nov. 1 will be 20 years for me. In addition to supporting Black faculty and staff, my favorite things about working at Drake have been the flexibility, opportunities for professional development—working in an environment where you are encouraged to learn and grow—and of course the students.
I have had some amazing opportunities that include serving our professional organization IASFAA (Iowa Association Student Financial Aid Administrators) and going on a study abroad site visit in 2003. I also really enjoy working with the students. Seeing students years later still in the Des Moines area, serving now their community, and showing love and respect toward me makes working at Drake special. Oh, and I can't forget, my son graduated from Drake in Spring 2020. I am a Bulldog, and now I have a Bulldog.
What is your favorite thing about the Drake neighborhood?
I don't have just one favorite thing about the neighborhood, but our campus is beautiful year-round.
Who has been the biggest influence in your life and what lessons did that person teach you?
There are too many to mention. One that I think of often is Evelyn K Davis. She was my aunt and an activist in Des Moines. There is a park and building named after her. I remember her for the love she showed me and the words of wisdom that anchored me while going through college. I wish I could tell her I'm doing great. She probably wouldn't be surprised. She seemed to see something in me when I couldn't.
How do you like to spend your free-time? Tell us about your hobbies and interests.
I love cycling in my free time. I enjoy running and hiking. I enjoy spending time with my family. I enjoy time with my grandchildren—we have eight and one on the way. In my spare time, I am Co-founder and President of Black Women 4 Healthy Living. We are a nonprofit that focuses on the wellness of Black women in the Greater Des Moines area. We work to see Black women well in mind, healthy in body, and strong in spirit. I am also a Girl Scout Troop Leader in the metro. If you need some Girl Scout cookies, we got you. I am the Troops Cookie manager.
This year is a year like no other. What advice would you like to give to a first-year student at Drake?
Create a healthy routine and stick with it. This may take some adjusting, but work it out. Take control of your time. Don't let time control you. Have a quiet time to refresh yourself daily. Take breaks to sharpen your ax. You will be able to cut down more trees and be more productive. Don't push through. It is okay to take a break. Then get back at it. Take care of your spiritual and mental health. I am a person of faith and without God, I am nothing, could do nothing, and would be nothing. So, I make time with Him each day. Scheduled time for physical activity, self-care, and rest. Try to get some veggies and fruits in. Drink water. I cannot say it enough, rest. Last but not least, you can do anything, but you can't do everything.