Now that you have your Direct Travel profile set up, you are ready to book your first flight. When you go out to search flights, it can be overwhelming understanding the different flight options and prices. You might find yourself wanting to compare Direct Travel fares to other travel sites to see if there is a better deal out there. We appreciate you being resourceful with Drake's funds, however there are some considerations to be made before automatically choosing the lowest fare.
There are two types of economy flight options: Standard economy and basic economy. While each airline carrier is different, in general basic economy is a no-thrills option created for customers who may be more price sensitive. It is offered in addition to standard economy at a cheaper rate. With that reduced price comes a trade-off. These lower priced options often have important restrictions on seating, carry-on baggage, member benefits and other aspects of your travel. Passengers often have to pay additional fees to match a similar experience to the standard economy ticket. Also, all carriers consider Basic Economy non-changeable. If you do need to make any changes, you will be charged.
It is important to remember online travel sites will quote only the cheaper standard economy fares. Direct Travel will default to the standard economy fare due to the benefits available. However, you can still book basic economy through Direct Travel by calling an agent directly and asking the Direct Travel agent to price basic economy fares. While there will be exceptions, Direct Travel should be able to match the prices from online travel sites for basic economy fares. Please note calling the Direct Travel agent will result in a higher agent fee.
Prior to booking any fare, it is important to check with each carrier on their rules as they aren't standard across airlines. Below is a visual from Delta that shows what is included in basic economy vs. standard economy. Although the price looks good, the tradeoffs might not make it so valuable.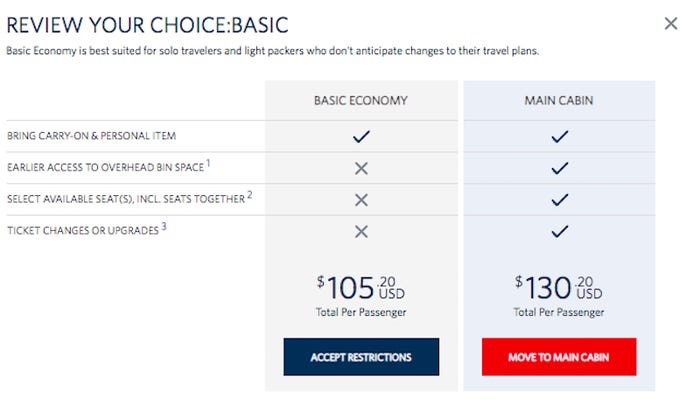 Look for additional travel articles In the coming weeks, as we continue to share information about our travel program. In the meantime, if you have any questions or comments, please feel free to email procurement@drake.edu.
— Erica McGowan and Heather Winslow, Finance and Administration