Below are some opportunities to help you become proficient in Blackboard Learn Ultra Courses before Fall 2021.
Training Options
Blackboard YouTube Playlist
Follow the Blackboard YouTube playlist for access to 50+ video tutorials on the Ultra Course Experience.
NOTE: This option may cover tools unavailable at Drake and may not provide rationale for decision making.
Drake Online "Design Dialogue" Sessions
Drake Online staff hosted a series of "Design Dialogues" each focusing on a different topic related to Blackboard Learn Ultra. Recordings of the Design Dialogues are available on their Faculty Resources page.
Blackboard Learn Ultra Instructor Orientation course
The Blackboard Learn Ultra Instructor Orientation course is available in Blackboard Learn. Every Drake faculty member has been enrolled as a student in this self-paced course. We strongly encourage you to complete this course so you can start preparing for fall. If you cannot locate it or need access, please submit a Blackboard Issue request.
Understanding the Ultra Experience Webinar Recordings
The Understanding the Ultra Experience Webinar Series includes four topics, re-recorded monthly to reflect software updates. Please be sure to select the most recent series (at the bottom of the page):
NOTE: These Blackboard-sponsored opportunities require a one-time registration
Learn Ultra Base Navigation
Learn Ultra Course Design
Learn Ultra Course and 3rd Party Tools
Grading and Managing the Gradebook
Drake faculty members who have attended these webinars have found them incredibly helpful and worthwhile.
Hands-on Building in Ultra Sandbox Courses
Learn Ultra sandbox courses were made available to most faculty members in Fall 2020. If you don't have a sandbox course in Learn Ultra and would like one or need any additional sandbox courses, please submit a Blackboard Site Creation request.
The sandbox courses:
Provide a risk-free environment for hands-on practice in a Learn Ultra course.
Allow you to build/prep a new course in Learn Ultra (which can later be copied into a live course, if desired).
Need More Help?
Contextual Help
In the bottom right corner, of any page in Learn Ultra, look for the purple question mark and click on Blackboard Help to be re-directed to articles to help you learn more about the feature you are using.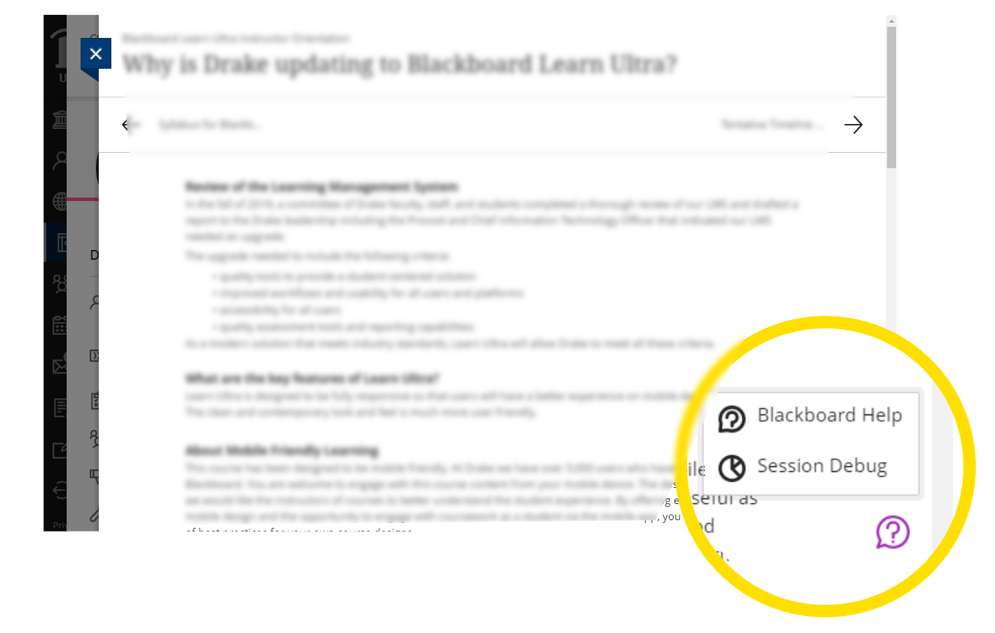 ITS Service Portal 
Visit the Learn Ultra knowledge base category to see guides including Copying Courses in Blackboard Learn (How-to), which provides instructions on copying Original courses to Ultra. Additional Learn Ultra resources will be available soon.
FAQ Page
To learn more about the Blackboard Learn Ultra project, visit drake.edu/its/learnultra.
—Karly Good, ITS